Georgia Gallagher
Originally from England, but living in Ireland since 1995, I am a fluent French and German speaker. Being a mother of two young children inspired me in 2013 to return to my love of languages, to teach and train with La Jolie Ronde and offer language classes to children in my community.  I set up Greystones Languages for Children in 2013 after training with La Jolie Ronde UK to teach French to children at primary schools in my area.  I enjoy my work immensely as it brings my language, teaching and administrative skills together to run a small business which fits around the lifestyle I lead with my family.  I have always loved languages and how special it feels to be able to communicate to people in another language other than your own.  I would like to give my children and other children in the community a taste of this by bringing language classes to their school or community.
I am an Honours Graduate in Languages (French and German) and Business from Wolverhampton University and I lived in France and Germany 5 years.  Armed with my teaching certificate (TEFL), I taught English and French for 3 years in France, New Zealand, Switzerland and the UK; the latter in 1994/95 where I taught French at after-school clubs in primary schools in South Manchester. On moving to Ireland in 1995, I worked for 10 years in the tourism industry in International Sales & Marketing where my languages played a huge role in my day to day job.
Georgia Gallagher, BA Hons (French, German, Business & IT), TEFL, H Dip Business Admin
Rachel Kennedy
I am an Honours Graduate (French and Spanish) of TCD, have lived and studied in France and Spain and worked extensively with both languages in a business capacity.
I've been teaching French and Spanish with Greystones Languages for Children for four years now and really enjoy sharing my love for the languages and the countries with the children.
It is wonderful to see them develop their language skills and confidence through our classes.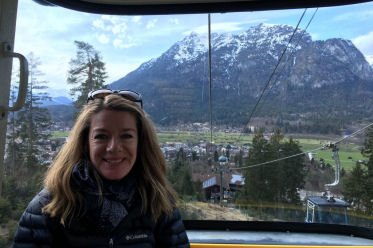 Janine Gore
I originally studied English and History of Art but then, after doing the MA Literatures of the Americas (TCD) I became very interested in Latin American literature and culture and began to learn Spanish.
After graduating I wanted to continue learning Spanish and so I moved to Barcelona where I began to teach English as a foreign language in academies around the city. I really enjoyed this teaching as it was so much fun and giving the gift of communication is, for me, priceless. In my spare time I continued to study Spanish to an advanced level with the Instituto Cervantes and became interested in and studied translation.
The heat in Barcelona in the summer was too much for me so, after two years I went north, to Donostia/San Sebastian. I stayed there for another 5 years and set up my own small business, teaching and translating in the town of Zarautz, on the outskirts of San Sebastian.
Now that I have moved back to Ireland, I have trained to teach Spanish through the 'La Jolie Ronde' method. I'm really looking forward to helping Irish children to feel happy and comfortable communicating in Spanish.